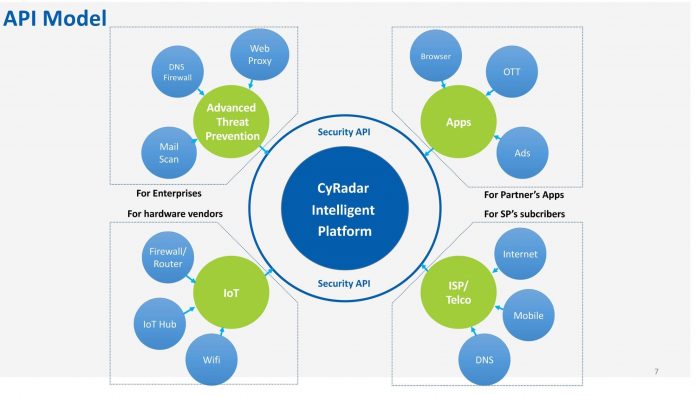 Posted on 21/02/2020 by CyRadar
CyRadar – The only Vietnamese representative in "Top 20 Cyber Security Innovators in 2019"
CyRadar, a start-up that attracted FPT Ventures' investment, had recently become the only Vietnamese representative in "Top 20 Cyber Security Innovators in 2019", a title awarded to innovative and creative security companies, as voted on by the esteemed Technology Innovation magazine.
"Top 20 Cyber Security Innovators in 2019" is a title awarded annually, ranked by the top US magazine Technology Innovation. This year in particular, the Vietnamese representative – CyRadar Information Security JSC had earned the chance to stand along with the world's leading security firms like McAfee, FireEye, Fortinet, Cylance… In sharing with Technology Innovation, Mr. Nguyen Minh Duc had said: "Using new technologies, we are able to solve security problems that previously seemed impossible with tradition methods."
There are only 4 Asian security firms that had achieved the title "Top 20 Cyber Security Innovators in 2019", including 2 Israeli companies (Firmitas Cyber Solutions & MinerEye), 1 Korean company (Penta Security Systems), and finally, Vietnam's CyRadar.
As cyberattacks get more and more sophisticated every day, security quickly become a survival matter to businesses of all fields. Regarding this problem, CyRadar had successfully built a smart AI platform, which acts as the "brain" to many of the company's products, including CyRadar Endpoint Detection & Response, CyRadar Internet Shield, and CyRadar Advanced Threat Detection.
Using machine learning, CyRadar had taken slow, sequential steps in countering specific problems like detection of network irregularities, website content analysis for fraud detection, analysis of unfamiliar files for malicious code detection, or even making predictions of potential attacks. This continuous effort of the company was held in high regards by Technology Innovation, and lauded as a pioneering venture in applying AI in cybersecurity.
CyRadar products are the fruit of Vietnamese tech experts, who concentrate on researching cyberattacks throughout Asia. The products are thus extremely suitable for companies in Vietnam and across Asia. In particular, CyRadar Advanced Threat Detection was the first proactive response to Vietnam's security threats, as it helped in supervision and analysis of network traffic for attack detection.
CyRadar Internet Shield is another solution to effective prevention of attacks via Email, Web, DNS. In particular, the system utilizes AI technologies to assist in the gathering and analysis of domain names, URLs, and infected files. Furthermore, CyRadar also employs frequent supervision, early detection, and throughout scanning of attacks using Endpoint Detection & Response (EDR), all for the reduction of malware attack. Using penetration testing on web and app platforms, CyRadar's services do splendid detection job, thus greatly reduce security threats, while also assist in rectifying security holes in the systems and in solving incurred problems after worldwide system testing.
CyRadar's products are now deployed in 20 companies and corporations, covering fields including Finance, Telecommunications, Production, and even Government. At the moment, CyRadar are providing products via the Security Operation Center (SOC) package for a household production firm that ranks top 7 brand in Vietnam. As shared by Mr. Nguyen Minh Duc: "By providing comprehensive security solutions from Endpoint, Network, to Gateway, we shall focus on the application and utilization of new technologies, to assist individuals as well as organizations in their full-time data protection."
Along with developing comprehensive solutions to cyberattacks for large businesses and organizations, CyRadar recognizes SMBs' similar problems. SMBs, with their limited workforce in cybersecurity and low budget, have yet to find proper solutions to system protection. In response to this, CyRadar CEO, Mr. Nguyen Minh Duc had expressed the company's interest in having SMB customers. Specifically, in the next 6 months, CyRadar strives to provide its services to around 100-200 SMBs.
"Our aim in the near future is still to provide security solutions on businesses and organizations in Vietnam. However, with our achievements, we hope that in the next 5-10 years, CyRadar will be able to expand, while developing software that protects individual users and households. We also hope that CyRadar will be among the Top 20 Asian Cybersecurity Companies in the next 10 years", said Mr. Nguyen Minh Duc.
Before in 2015, CyRadar was awarded High Quality Cybersecurity product by the Vietnam Information Security Association (VNISA), and Top 15 Potential Start-ups at Thailand Echelon Launchpad 2015.
Le Hoang