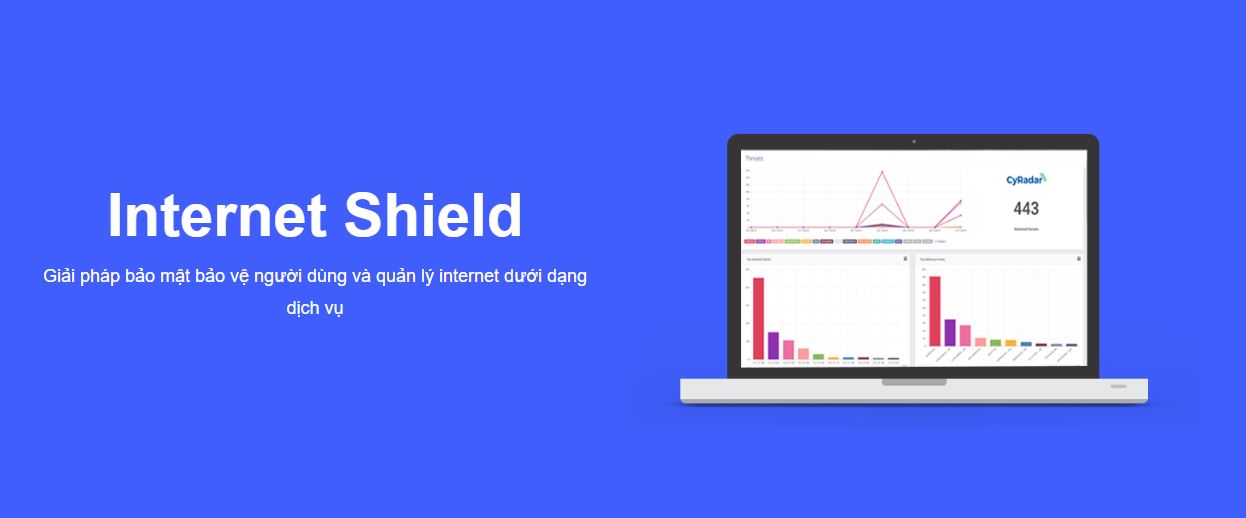 Posted on 21/02/2020 by CyRadar
CyRadar Internet Shield – A new approach for web security solution
CyRadar Internet Shield is a web security gateway based on cloud technology that gives users a completely new security method, minimizing the cost and disadvantages of traditional methods.
Security trend in the world – Cloud computing technology
CyRadar Internet Shield is a cloud-based security service that provides many advantages to businesses. Deploying quickly, easy management is one of the outstanding features of the service. Through many CyRadar security layers, users are protected from a large number of sophisticated malware, ransomware as well as online phishing websites anytime, anywhere. In addition, CyRadar Internet Shield provides reporting and policy control tools – An effective way to manage and monitor internet usage in your business.
This solution will help businesses fight online scams. Protect users from phishing websites, where users are tricked into losing sensitive information. Besides managing Internet access, customizing internet access policies of businesses; Anti-malware, prevent a series of malicious code: spy malware, ghost computer network, control server, ransomware, … The product can integrate across platforms, protect all devices, platform within the enterprise network. Especially, the system can detect and prevent the most sophisticated malware today and potential dangers through the sandbox cloud service. The product is deployed on a cloud platform to help set up easily and reduce costs compared to other security devices.
Protect all users
By establishing a web link through the CyRadar cloud system, business users are provided with a strong security platform and internet access policy. Now users have direct access to the web with with the best privacy policy. Users can check incoming and outgoing network traffic including HTTP and HTTPS. The system not only protects employees in the office, but also remote employees. Supported on all platforms (including Windows, MacOS, Linux, …) and any device such as laptops, mobile phones or even IoT devices. The product is user-friendly, eliminating inconvenience for users by integrating SSO identifiers, with our customer support team always ready to respond as soon as possible.
Monitor and control internet usage
CyRadar Internet Shield provides administrators with all the necessary utilities to monitor, collect and summarize business network usage. At the same time, the product policy tool helps them effectively control the network by applying network access policies.
Web admin panel: Provides and visualizes complete information about current web usage threats and activity
Comprehensive report: Provide detailed periodic reports via email, especially, the system will alert immediately when businesses are facing serious threats.
Customizable policies: Sample policies provide a range of network access control options. Besides, administrators can easily create new policies that suit the needs of the business
Application control: Monitor and control the use of common applications
Analyze user behavior: Collect and analyze data from user behavior to optimize productivity and internet usage in the enterprise
Network usage statistics: Visualize data in the most detailed form to get an overview of network usage status
Phuong Thao