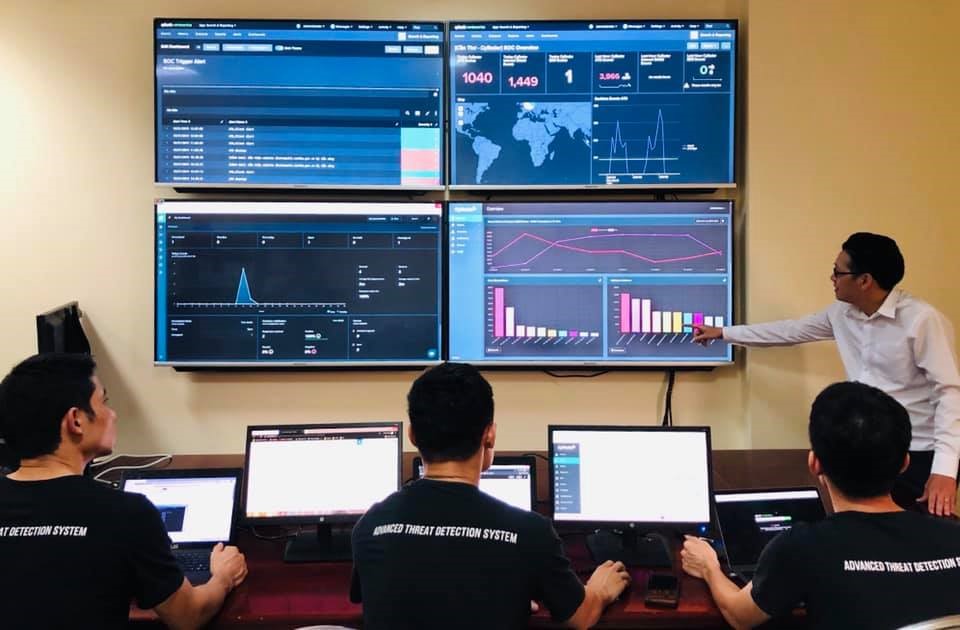 Posted on 21/02/2020 by CyRadar
Security Operations Center is being implemented by CyRadar in Can Tho City
October 22, 2019, at the Department of Information & Communications of Can Tho City, Mr. Nguyen Minh Duc, Director of CyRadar along with Mr. Phan Van Nam, Director of Can Information and Communication Technology Center joined the signing ceremony of the Cooperation Agreement to enhance the application of Information Security in organizations and businesses in Can Tho City.
Nowadays there's a growing concern about cybersecurity. Therefore, the implementation of the Security Control Center (SOC) is important. According to Deputy Director of the Department of Information and Communications of Can Tho City, Mr. Nguyen Huu Thanh Binh,  there is a fact that the city's administrative agencies have been attacked many times so that raising awareness and skills to respond to safety incidents is extremely necessary. Mr. Binh shared: "The cooperation with a capable and experienced startup-like CyRadar will be of great help to keep officials and employees of Can Tho's departments from embarrassing attacks. The Internet is getting more and more sophisticated cyber attacks."
Security Operations Center is a unit that handles centralized security issues. The center is composed of security analysts to detect, analyze, react, report, and prevent network security incidents. According to this agreement, Can Tho Information and Communications Center of Can Tho City Department of Information and Communications has put into use the network security monitoring center built by CyRadar to monitor information security for the entire system of Department and Database Center of Can Tho City.
The handover ceremony of mini SOC system for Can Tho IT and Communications Center was also conducted after the signing ceremony of cooperation. With experience in the field of new generation attack detection, CyRadar is the leading company in providing professional services from design, build and operate the SOC system, which is trusted by Can Tho City.
High-tech information security measures are applied, contribute to improving the organization, coordination, troubleshooting of network incidents, and at the same time equip more knowledge, skills and practical experience to improve the capacity of officials and employees of the Department and businesses and organizations in Can Tho city to prevent the sophisticated attack
At the first stage, CyRadar will be in charge of some solutions and technical support for basic construction of Network Security Control Center – mini SOC. After a period of pilot implementation, the mini SOC system designed and built by CyRadar has been handed over to Can Tho ICT Center of Can Tho Department of Information and Communications. This system will monitor information security for the entire system of Can Tho City Departments, Database Centers, promptly detect and prevent incidents when network attacks occur.
In the afternoon of the same day, leaders of Can Tho departments and more than 100 representatives of many provinces and cities in the region, along with a team of CyRadar experts participated in the Cyber ​​Information Security Rehearsal in the State agency. This is the most comprehensive form of training in order to raise awareness and responsibility for protecting information security of organizations and state and private enterprises
CyRadar this year has just become the only representative of Vietnam named in the "Top 20 Cyber ​​Security Innovators in 2019" for security businesses with many innovations, according to the prestigious Technology Innovation magazine. In 2015, CyRadar was honored as a high-quality information security product certified by the Vietnam Information Security Association (VNISA) and Top 15 potential startups in Thailand Echelon Launchpad 2015.
Ryan Hoang